A Conversation with Mohiuddin Mazumder – Recipient of the PCI-SIG® US DevCon 2021 Chairperson's Award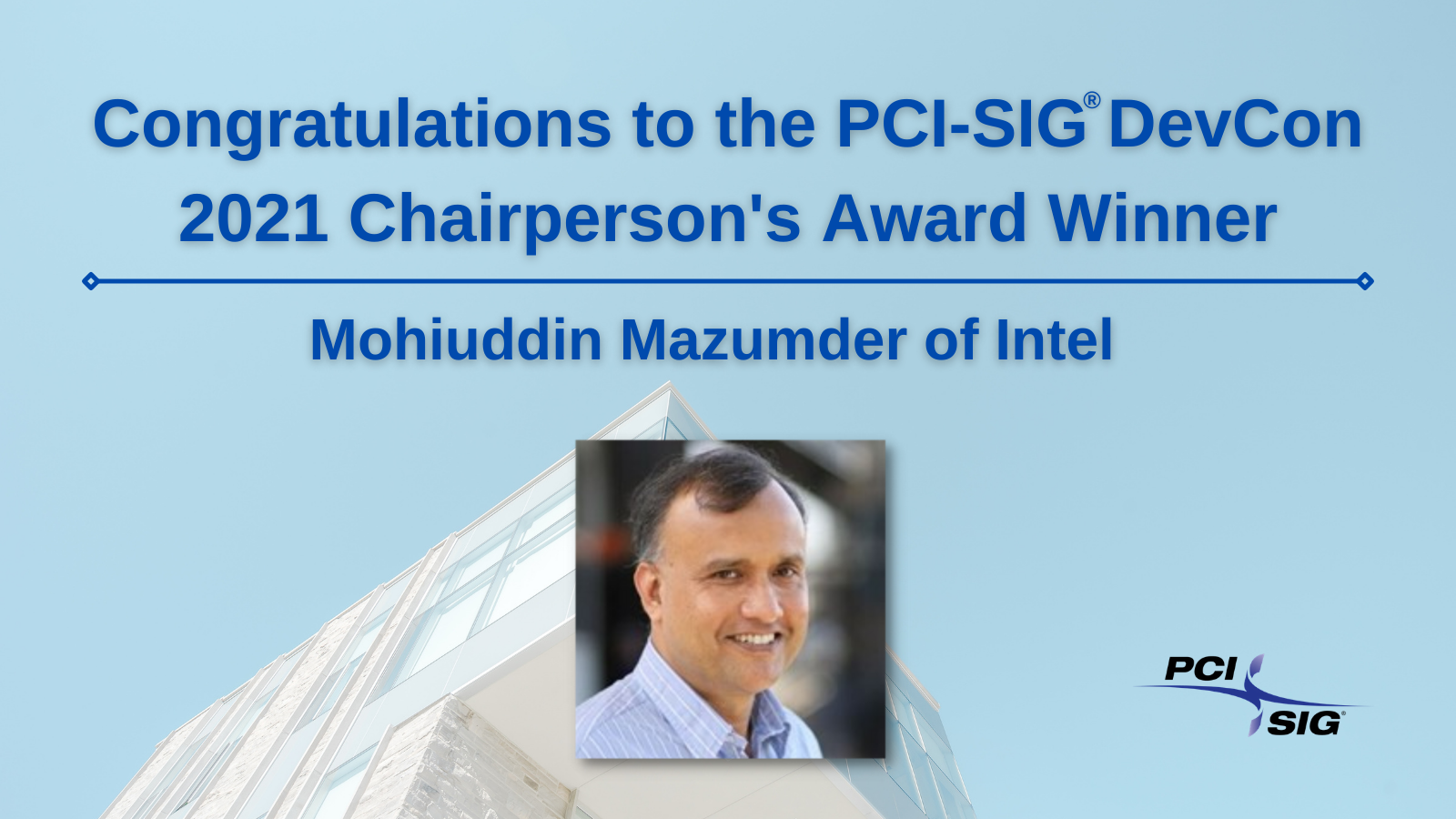 Mohiuddin Mazumder of Intel was honored at this year's PCI-SIG US DevCon
At the PCI-SIG® DevCon 2021, the PCI-SIG Board of Directors recognized two individuals for their countless hours of service and technical contributions to the expansion of the PCI Express® (PCIe®) technology over the years. Congratulations to Mohiuddin Mazumder of Intel for receiving the PCI-SIG DevCon Chairperson's Award. In the following interview, Mohiuddin discusses what this award means and the industry impacts of PCIe technology.
What does this award mean to you?
I feel extremely honored for receiving the PCI-SIG Chairperson's Award. This is a recognition of the excellent contributions by many members of the PCI-SIG Electrical Work Group (EWG) that I co-lead with Gerry Talbot. I would like to thank PCI-SIG for this special honor, and I share this award with my colleagues from Intel and the industry who collaborate passionately by pushing the physics limits to advance PCIe technology.
What are your proudest achievements related to PCIe technology in the past year?
I felt proud when we reached PCIe 6.0 version 0.7 Base Specification milestone in 2020 in the middle of a disastrous worldwide pandemic. The PCIe 6.0 version 0.7 Base Specification provided the industry with a high-confidence standard for PCIe 6.0 technology execution. In early 2019, we took a very ambitious goal of doubling the PCIe specification bandwidth once again with full backwards compatibility while maintaining all the excellent attributes of PCIe technology, such as low-latency, low-power, high-reliability, low-cost and HVM manufacturability for PCIe 5.0 technology platform channel reaches. Achieving that goal appeared extremely difficult if not impossible. This required a holistic approach where major improvements were needed across protocol, link, logic, and electrical layers of PCIe technology. Reaching version 0.7 specification maturity from the initial proposal in less than 18 months would not have been possible without the strong multi-disciplinary collaboration, determined optimism, and hard work by my PCI-SIG colleagues and their engineering teams.
What has been the most fulfilling aspect of being part of PCI-SIG for you?
The opportunity to work with passionate people from across the industry who not only believes in the potential of PCIe technology but also works hard to break many barriers in advancing the technology.
What do you feel is the impact of PCI-SIG and PCIe technology in the industry?
The impact of PCI-SIG and PCIe technology on the industry is increasing at an accelerated pace as PCI-SIG continues to deliver doubling of bandwidth with full backwards compatibility. The PCIe technology ecosystem of devices is expanding in many market segments such as AI/ML, networking, storage, and visual computing and is meeting the I/O interconnect demands of many industries such as Data Center, HPC, IoT and Automotive. PCI-SIG plays a key role in enabling the PCIe technology by delivering many PCIe-related standards in a reliable and predictable way. PCI-SIG serves it community of 800+ companies extremely well with constant knowledge sharing and fostering of strong collaboration.
Where do you see PCIe technology progressing in the next year?
We will continue to work on the industry enabling of PCIe 6.0 technology that includes the completion of PCIe 6.0 CEM and other form factor specifications and PCIe 6.0 PHY test specification. 
PCI-SIG DevCon 2021 materials available on-demand
The PCI-SIG Virtual DevCon 2021 presentation recordings are available for members to view on the event platform. If you registered for the event, you still have access via the event link and password you were provided upon registration. Members can also view the presentation recordings and slides on Causeway.
If you missed registration, you can still receive access to the event materials via the event platform. Please reach out to pcidevcon@pcisig.com for assistance.
Read the interview with PCI-SIG DevCon Chairperson's Award winner Manisha Nilange of Intel here.