A Conversation with Manisha Nilange – Recipient of the PCI-SIG® US DevCon 2021 Chairperson's Award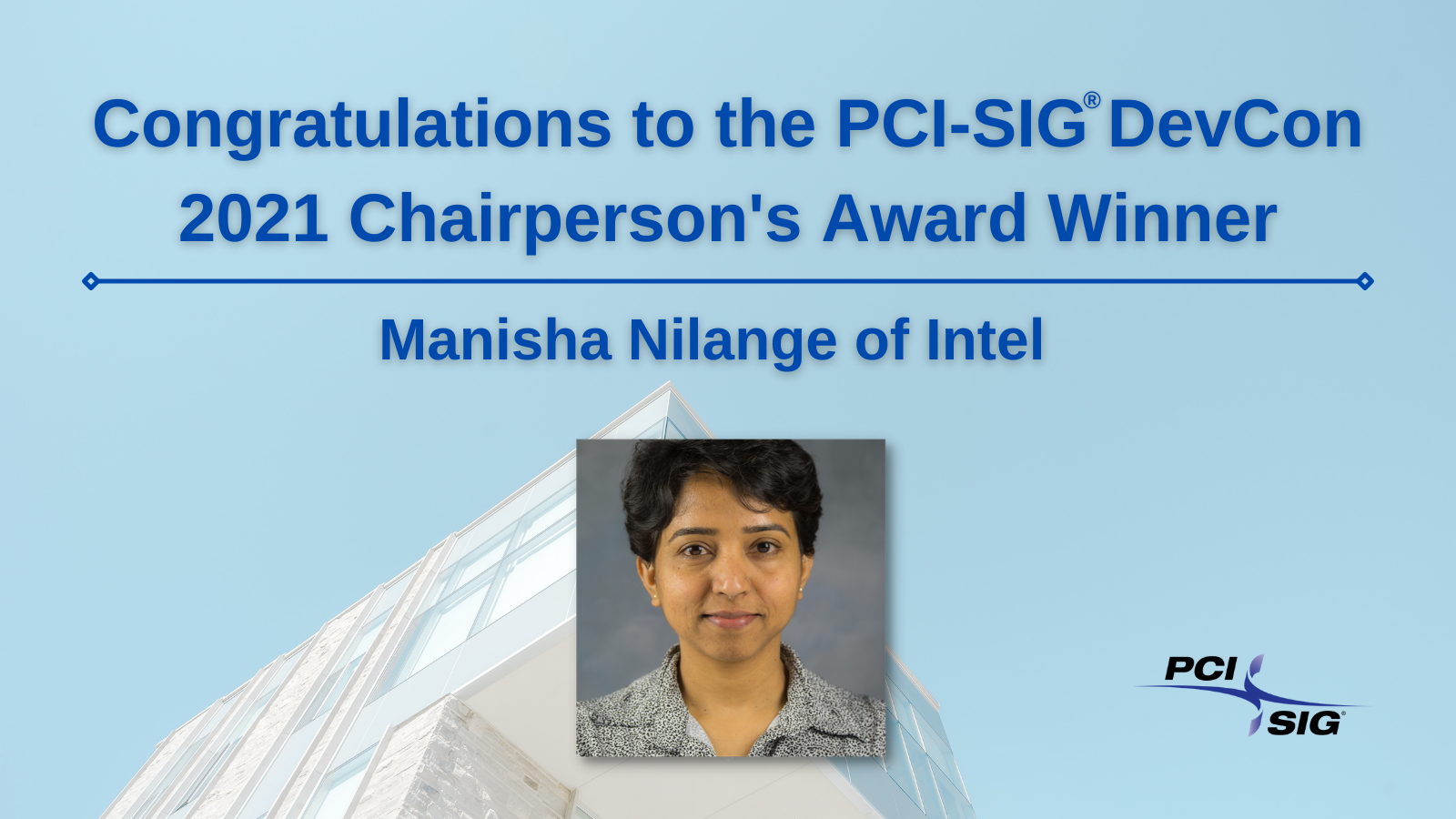 Manisha Nilange of Intel was honored at this year's PCI-SIG US DevCon
At the PCI-SIG® DevCon 2021, the PCI-SIG Board of Directors recognized two individuals for their countless hours of service and technical contributions to the expansion of the PCI Express® (PCIe®) technology over the years. Congratulations to Manisha Nilange of Intel for receiving the PCI-SIG DevCon Chairperson's Award. In the following interview, Manisha discusses what this award means and the industry impacts of PCIe technology.
What does this award mean to you?
I am very delighted to receive this recognition. I have been associated PCI-SIG for the past 15 years in various capacities. It has been a great and enriching journey. I would like to share this recognition with all of my work group members (within Intel and outside) whom I have collaborated with over the years.
What are your proudest achievements related to PCIe technology in the past year?
Completion of CEM 5.0, version 1.0 specification, which included significant connector improvements to achieve 32 GT/s data rate, while maintaining backwards compatibility with previous PCIe technology generations, and support for 600 W high power connectors; completion of the M.2 rev. 4.0, version 1.0 specification, which included connector optimization to support 16 GT/s; completion of the SFF Connector rev. 4.0, version 1.0 specification; and successful commencement of 32 GT/s correlation workshops.
What has been the most fulfilling aspect of being part of PCI-SIG for you?
The most fulfilling aspect of being part of PCI-SIG has been the ability to shape the future of PCIe technology and its applications in collaboration with member companies. It is fascinating to see the products in the market that are based on the technology that I helped to enable. Being part of PCI-SIG has given me an opportunity to work with some of the most talented and brightest engineers in the industry.
What do you feel is the impact of PCI-SIG and PCIe technology in the industry?
With 800+ member companies, PCI-SIG provides a great platform for companies to share ideas and work collaboratively to define specifications. PCI-SIG's largest contribution has been driving technology across variety of form factors and creating specifications to support compliance and interoperability.
Where do you see PCIe technology progressing in the next year?
Over the next year PCIe technology will continue to provide more reliable, secure, faster, power efficient and scalable IO interface to meet the needs of the industry.
PCIe technology will continue to have a strong foothold in applications like autonomous driving, enterprise servers, AI, cloud computing, 5G and other data-intensive applications. PCIe technology has seen doubling of the IO bandwidth every approximately three years and will likely continue the trend.
In the next year, the PCI Express 6.0 Base Specification will be finalized, the PCIe 5.0 compliance program will get ready to start the Integrators List, the PCIe 6.0 compliance program will be in the exploration phase, and the PCIe form factor specification will start looking into future enhancements.
PCI-SIG DevCon 2021 materials available on-demand
The PCI-SIG Virtual DevCon 2021 presentation recordings are available for members to view on the event platform. If you registered for the event, you still have access via the event link and password you were provided upon registration. Members can also view the presentation recordings and slides on Causeway.
If you missed registration, you can still receive access to the event materials via the event platform. Please reach out to pcidevcon@pcisig.com for assistance.
Read the interview with PCI-SIG DevCon Chairperson's Award winner Mohiuddin Mazumder of Intel here.