Next level unlocked! The PCIe 6.0 Specification, Version 0.71 is available for member review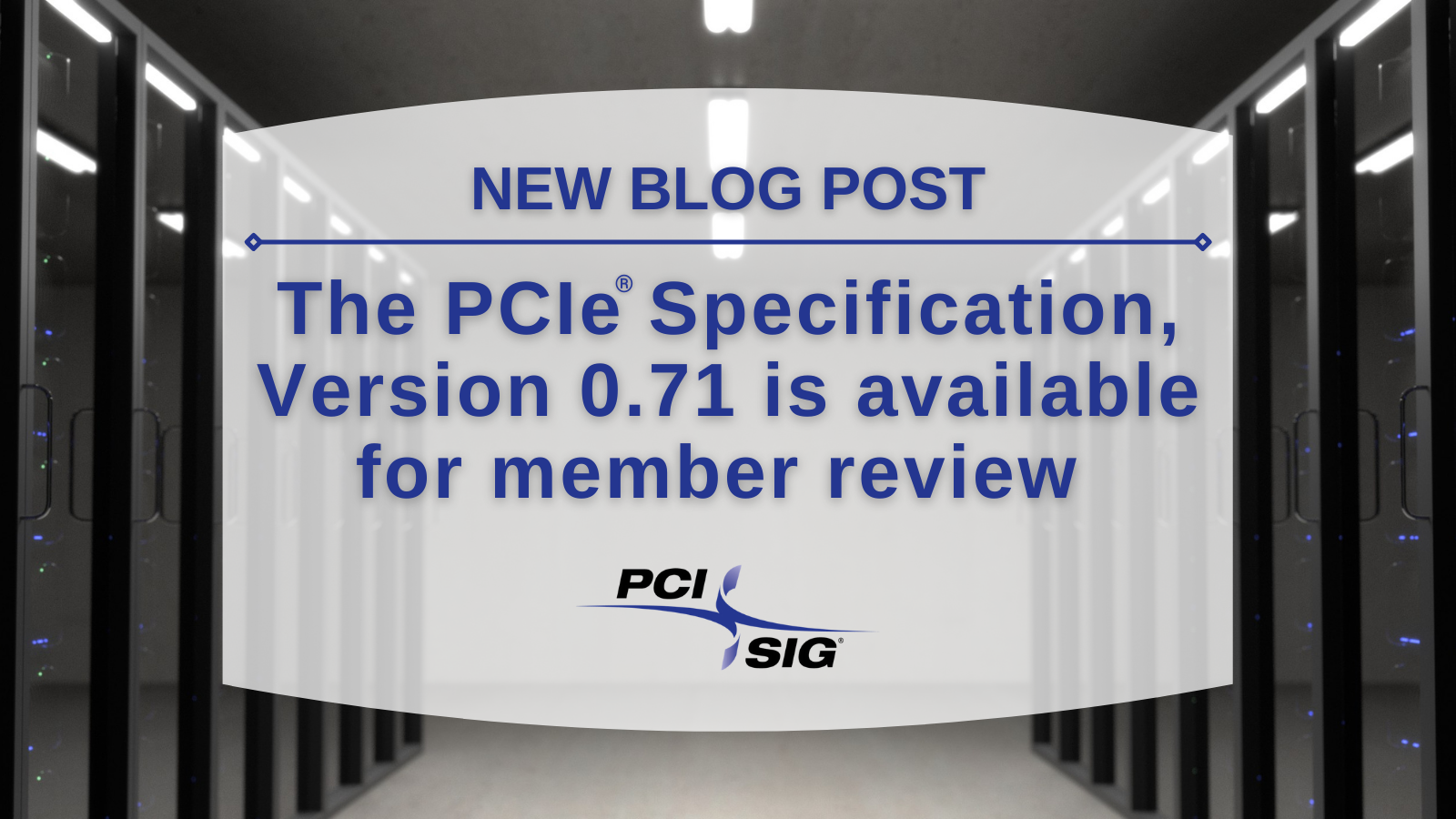 By Al Yanes, PCI-SIG® President and Board Chair
I am excited to announce the PCI-SIG has shared the PCI Express® 6.0 specification, version 0.71 with our members for review. This draft brings us one step closer to completion, which is on track for a full release before the end of the year.
Why celebrate Version 0.71?
Recognize the ongoing hard work of our workgroups who contributed. In this instance, the protocol and electrical workgroups were especially busy.  
Make sure our members are aware that this draft is now available for member review. Collaboration is key as an open standard.
Share our progress with the industry. We know developers and media alike are eagerly awaiting the final specification.   
The PCIe 6.0 specification is a significant undertaking and we must continue to diligently work through the technical complexities before we move to the next major draft later this year.  
The PCIe 6.0 specification features include:
64 GT/s data rate and up to 256 GB/s via x16 configuration, doubling the bandwidth of the PCIe 5.0 specification
PAM4 (Pulse Amplitude Modulation with 4 levels) signaling, leveraging existing 56G PAM4 data rates
Low-latency Forward Error Correction (FEC) with additional mechanisms to improve bandwidth efficiency
FLIT (flow control unit) based encoding
Backwards compatibility with all previous generations of PCIe technology
Explore PCIe 6.0 Technology Resources
The PCI-SIG website features a wealth of educational resources to learn more about PCIe technology. PCI-SIG Board Member Debendra Das Sharma presented the webinar, "PCIe 6.0 Specification: The Interconnect for I/O Needs of the Future," which explored how the ever-increasing demand for additional performance in power-constrained devices and data-hungry server, client, embedded, cloud and edge segments is driving the quick transition to PCIe 6.0 technology. The webinar generated so much interest that we published four separate blog posts based on questions around PAM4 Signaling, L0p, Forward Error Correction (FEC) and additional supported features. Subscribe to the PCI-SIG BrightTALK channel for alerts about upcoming webinars.
I also encourage you to follow PCI-SIG on Twitter, LinkedIn and YouTube for real time updates about PCI Express technology. In addition, you can review the list of all released PCIe specifications in the PCI-SIG Specifications Library. I look forward to sharing news of the PCIe 6.0 specification release later this year.